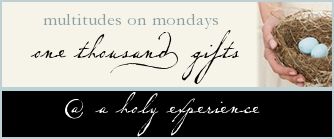 My mind is all a-jumble tonight with thoughts and words and ideas and inspirations. Abba has been speaking, speaking, speaking and I scramble to hear, and ever more to obey.
Today Ann Voskamp wrote this in her beautiful blog
:
But God asks us not to read or write words, but become them.
I find myself somewhat stymied at the process of becoming, or maybe not so much becoming since becoming happens with or without awareness, perhaps I should say at the process of intentionally becoming...something that wasn't in the original blueprints that I had assumed would define my life.
So putting words to things as yet not quite become isn't something that I will do today. Instead I recognize the great goodness of The Word who first Became.
106.) A glimpse that maybe my character isn't as intractable as I think
107.) Rooms that are too small to hold the number of people arriving to hear The Word spoken
108.) New faces with which to study
109.) Silliness at the dinner table (turtles with Christmas trees, indeed)
110) Running a little farther
111.) Prayers from a heart friend
112.) Learning to be vulnerable, and wise
113) Good friends laughing in the kitchen
114.) The Jonah promise that after 3 days comes new life
115.) Taking hands with new sisters to explore God together
116.) Words on Paper = a beautiful plan, and a bit more peace
117.) Sharing a True Word
118.) Giving an unintentional gift
119.) Learning Perseverance
120.) Mexican food